Do you ever really know a City? Over years of living in London I'd started to think I was getting the measure of it, or at least certain portions. I can certainly navigate my way on foot about a loose trapezoid of Old Street – London Bridge – Victoria – Camden with ease. That's a nice skill to have, but just because I can find my way does it follow that I know the place? Recent event have made me think…perhaps not.
My commute sees me walk west from Old Street station towards the old Cannon Brewery. After work I travel to the library for an evening writing sesh via Barbican. My employer only moved to the area seven months ago, but I had been keeping my eyes open ever since we made the move, pleased to absorb new landmarks and get a feel for the place. I stopped to take pictures of interesting graffiti, design and architecture. I wanted to learn every last brick, lamppost and chimney along the route. Pretty soon I thought I had achieved this. I stopped looking, and quickly grew bored instead, pounding the same pavement each morning.  I thought I'd seen all there was to see.
Then, one day a week ago, turning off Old Street, I noticed a small mosaic. A beautiful little piece of street art depicting a tortoise. I'd already seen a couple of other mosaics by the Post Office, but I had never glimpsed this one, after all the months of negotiating the same corner. How was that possible? I took a  picture of it, feeling a little flustered. There must be other mosaics. Where were they?
I calmed down at work, my thoughts wrenched to nine to fivery. By the end of the day my mind had turned to dreams of home. I headed out, turning at the end of the street towards Barbican. Then, on Goswell Road, I clocked it: a beautiful, carved lion head, snarling at me from a nondescript building I must have passed a hundred times.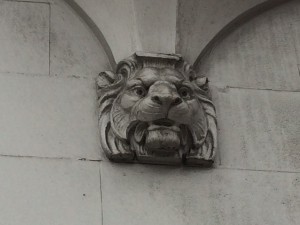 Now, I had specifically been seeking out Lion statues and carvings for a blog I was writing. I'd been at it for weeks. And yet this characterful, easy to snap, panting beast had completely escaped my attention.
In one working day, my knowledge of the commute streets had been exposed as sorely lacking. Evidently, I thought, I see but I do not observe.
I guess it's just a brilliant thing about London. Wherever you travel you are saturated by centuries of design. It could take years to unpick the fabric of even a few streets, let alone the City.
Now what the hell else have I missed?