The Let it Be album was my gateway to the Beatles. I had heard bits and pieces before, through radio, my Dad's Best of George Harrison tape, and weird collections like that blue album – but until Let it Be I had not been drawn in.
Then, on a bus trip, a friend at school introduced me to the White Album. He lent me his headphones, and I fell in love. I was about fifteen.
Let it Be as the best Beatles album (you heard me)
I went out and bought Let it Be and The Beatles in fairly quick succession, and sort of preferred Let it Be.
To me, listening to it 25 years after release, without any preconceptions, it was a great album. There were non-single delights like Two of Us, For You Blue and I've Got a Feeling sharing space with one of the great Paul songs in Get Back. It had a pleasing live feel, interspersed with cool Lennon chit-chat like:
Queen says 'no' to pot-smoking FBI members
It was easier to take in than the sprawling white album. Let it Be required me to jump up and skip a track only once (The Long and Winding Road is just awful glunk – with or without Phil Spector production) where the White Album had me off my feet skipping all the time (Ob-La-Di, Ob-La-Da, Martha My Dear, Don't Pass Me By, Julia, Everybody's Got Something to Hide, Revolution 9).
Also, isn't Long, Long, Long terribly produced? I can't hardly hear that damn track. This take had so much more promise lads.
"A new phase Beatles album"
Even as my mania developed, and i spread my wings into other albums like Sergeant Pepper, Revolver and Rubber Soul, into Abbey Road, Help and Past Masters Volume 2, I discovered greater individual tracks, but no real challenge to Let it Be as my favourite listening experience.
I devoured books on the fab four, and came across the popular critical notion that Rubber Soul/Revolver are the true masterpiece projects. I had no problem dismissing that as obvious tosh. Sgt Pepper was astonishing, more than those that had preceded it. Still, somehow, I couldn't love it as much as Let it Be. Other contenders, like Abbey Road seemed over produced.
The End, and a beginning
At first I didn't wonder so much about the fact that Let it Be had been the band's final album release. For a time I think I presumed this was a kind of natural process – that they had simply burned out. The following solo albums provided ample evidence: McCartney was mostly very bad. All Things Must Pass was wildy overrated (1973's Living in the Material World, I later discovered, is better). Plastic Ono Band was excellent, if a bit of an ordeal (Mother, Working Class Hero, I Found Out).
It was only watching the anthology, and reading Peter Brown's Love You Make, that I really began to clock that the band considered the "new phase" Beatles album an absolute crock of shit, a source of acrimony and embarassment. This was distressing.
Investigating the Get Back sessions, and listening to the Anthology three, I started to become flat-out obsessed with the project. I discovered the weird Lindsay-Hogg film and the rooftop concert, or those few clips that were obtainable back in the 90s. Most of all, I discovered that the project had produced a huge amount of half-attempted tracks.
I remember reading an Anthology Three review which lamented the incomplete potential of the band's cover of the Buddy Holly song, Mailman, Bring Me No more Blues.
Why couldn't the band have tried a bit harder, I wondered? Why hadn't they embraced the Get Back concept of stripped back, live rock'n'roll? Suddenly my favourite album was transformed into an incomplete hodge-podge. Why hadn't they made they album it could have been?
What might have been
In many respects, my relationship with Get Back became an unhealthy one. Life was far better when it simply was what it was to me, when I had no ideas about its history. There is, after all, no going back in time and fixing it.
Still, this concept of an alternative album, with that alternative cover; the notion of how it might have been a more dignified and orderly final act, is for some reason irresistable to my deranged Beatlemaniac mind.
So it is that, for over a decade, it become a sort of hobby of mine to dive deeper and deeper into the Get Back sessions, exploring the sort of album that might have been created.
Not enough tunes
One of the key points about Let it Be, one that its critics frequently highlight, is that there simply aren't enough tunes on there to make up a proper album. Even if you add back in the beautiful, bafflingly omitted Don't Let Me Down, and keep the godawful Long and Winding Road, you're still left with essentially a EP of rooftop concert stuff, with bits and pieces of studio recordings tacked on – unevenly united by the Spector production wash.
But, dig a little deeper into fellow fanatic sites like the Beatles Bible, and you see that an enormous amount of tracks were run through (if not recorded as such) in a half-arsed, time-killing fashion. Particularly popular, apparently out of a vague nostaligia for simpler days, were rock'n'roll standards, often given only one or two run throughs – Mailman Bring Me No More Blues among them.
The reasons for the mess the project became are much more interesting than simply 'the band was falling apart'. My early reading pretty much conveyed ths standard mythology.: Yoko was there all the time, poisoning the band dynamic; John was doing horse; George was peevish and sick of understudy status; Paul wanted to control everyone. All of these things, to some extent, are true.
But watching the excellent and equally Get Back obsessive "pop go the 60s", a much more human story emerges: of a band that was underprepared, overambitious, and unable to pull the plug and start again. The common myth, that Paul was trying to 'take control' of the band, probably reflects that he was most bothered by this sense of chaos.
At first the idea was to rehearse White Album tracks, perform them live and film the whole process. Challenging, but doable. Then they decided to do new songs, turning the project (probably unintentionally) into something far more complex: a fly on the wall documentary about the making of a new album – plus the concert aspect.
As if that weren't tough enough, it seems that when they began filming they simply didn't have the songs ready for a new album, arriving with only a handful in some kind of finished state (understandable after pumping out an enormous double album in '68).
They probably could have achieved even this, if not for the awkward presence of film cameras, placing them under the dual pressure of performing while creating. Even that might have been overcome, if there had been a Brian Epstein there to crack the whip and make them get the stupid thing done. As it was they placed themselves in a distracting, alien environment, without a clear goal – and the whole thing began instantly to feel like a ship drifting towards the ice, with no captain to salvage the situation.
The rock'n'roll recordings seem to have been a symptom of this lack of direction – bored and frustrated, or trying to generate some positive energy, someone starts picking an old favourite in an effort to lift spirits. Often it fizzles out before it begins. (I mean this one makes me want to shoot myself).
It is all horribly familiar to anyone who has been involved in a creative project that just isn't quite gelling.
Enter the maniac
Other times though, there is a glimpse of something special, as in the case of Mailman, or this little effort at Chuck Berry's 30 days.
I am obsessed with this idea: what the sessions might have produced if the Beatles had embraced this notion of doing cover versions again: making a decision to flesh out their album as they did in their earliest days, applying their sound to six or seven covers of the music they love. It could have been a useful way to enjoy the process a little more, and take the pressue off on the days when things weren't working.
Looking at the Beatles Bible, it's possible to see what tracks were most on their minds, simply by the number of runs the band had at them over the project.
This is where the delusional Beatlemaniac in me can really get on with wasting his time and create his fantasy album – a joyful Get Back rather than a solemn Let it Be – a collection based on live performance, 14 songs, a mix of new and old made new again.
What would that have looked like? Why I'm glad you asked, imaginary person who begins to give a shit.
Get Back
First things first: the new tracks. This is simple enough. There are 10 that could be thought of as Get Back session tracks:
Two of Us
Dig a Pony
Don't Let Me Down
I Me Mine
Let it Be
I've Got a Feeling
One After 909
The Long and Winding Road
For You Blue
Get Back
Then you have the rock and roll standards the band performed numerous times:
3 performances:
I'm Talking Bout You (Berry)
Right String, Wrong Yo-Yo (Perkins)
Take this Hammer (Lonnie Donegan)

2 performances:
What I'd Say (Ray Charles)
Thirty Days (Chuck Berry)
That's allright mama (Elvis Presley)
Something Else (Eddie Cohran)
Some other Guy (Richie Barrett)
Singing the Blues (Guy MItchell)
Mailman Bring me No More Blues (Holly)
Lucille Llittle Richard)
Lotta Lovin (Gene Vincent)
Looking at that, you can take a pretty decent idea of creating an album that's half new tracks, half rock and roll greats, all performed live, with more equitable representation for our George.
SIDE 1
1.Two of Us (Paul & John)
2.Dig a Pony (John)
3.I Me Mine (George)
4.I've Got a Feeling (Paul & John)
5.For You Blue (George)
6.Don't Let Me Down (John)
7.Get Back (Paul)
SIDE 2
8.Thirty Days (John)
9.Something Else (Paul)
10.Lotta Lovin (George)
11.Mailman Bring Me No More Blues (John & Paul)
12.Right String Wrong YoYo (George)
13.Lucille (John)
14.That's Alright Mama (Paul)

Yes, I'm leaving Let it Be off there: I choose to make it a single, with One After 909 as its B-side, which as a resurrected old Lennon-McCartney track would make a nice counterpoint to Let it Be in 1970 after the band's breakup, and much more appropriate than the daft You Know My Name Look Up My Number, the actual B Side. Besides, it's really it's in the spirit of early Beatles to have single tracks that aren't on albums, so I can dump all the problem songs, the ones I disklike or don't fit on my fun, live Get Back, right here.
Single:
Let it Be
One After 909
Single;
The Long and Winding Road
Across the Universe

Job done
There you go. Job done, right? Well, no, not quite. The job is never done.
I mean, on early Beatles albums they would have mixed original and cover tracks, not divided them, right? So maybe the tracks would have been mixed.
And I mean, if we're playing fantasy, why not have a complete Let it Be that includes versions of the other Beatles/ solo tracks practiced but never completed during the sessions ? These include Isn't it a Pity. Hear Me Lord and All Things Must Pass from George; Another Day, Back Seat of My Car. Teddy Boy and Every Night from Paul; and Gimme Some Truth from John.
The fact is, the exercise never ends. Reworking the album is a kind of game for me, a sort of meditation, a place to send my mind at times of boredom: a lot of fragments I can reshape over and over.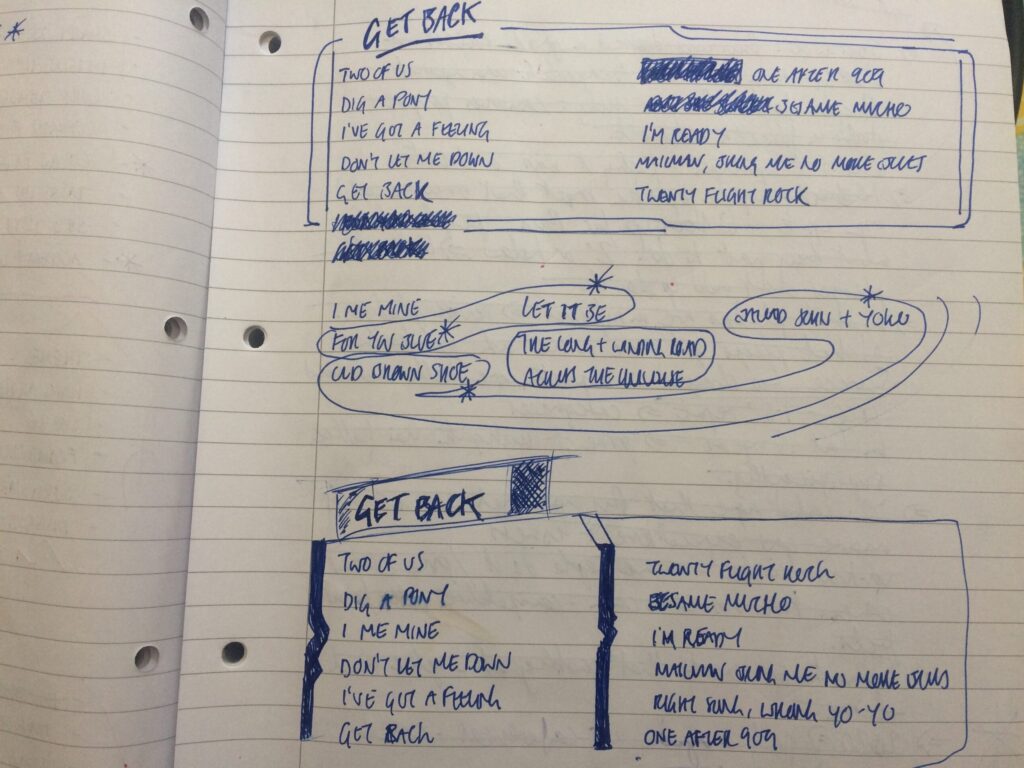 The truth is, the Beatles fell out, and Get Back was part of their disolution. There is no fixing it. Of course they were friends and of course they tried to make it work.
But we also know that the Beatles remember it as a disaster, the final blow to the band. And while maniacs like me can play these silly games for fun, we should always remind ourselves of what is fantasy. We should know that it is important to accept when something died – that it really was a case of Let it Be, not Get Back.
I do wonder where Peter Jackson is on this point. Does he realise how sick the Beatles were of the act of being Beatles? Of how little their playing up to camera reflects what was happenign in their heads? Probably. Hopefully. We'll see.